Other Juggling Props and Circus Arts
And if I wasn't busy enough with all the other juggling I like to do, here is some other props and skills I like to practice.
---
Ball spinning
I started spinning balls after I had a chance to see Mark Nizer perform here at the University of Illinois. Shortly after that I saw Sean Blue do some great stuff at the '95 Bloomington Fest. It helped being able to see what kind of balls they used and get a little advice from them. If you get interested in this then be sure to check out the Ball Spinning section at the JIS.

Other links to look at:

Post to rec.juggling on ball spinning.

Here are a couple of great pictures I took of Mark Nizer doing some ball spinning. These were taken at our club festival in March 1996.

This is the trick he is doing: He starts by spinning the yellow ball in his right hand. He then drops the white ball on his foot, which then gets kicked up to the back of his neck. From there he stands up straight, kicks the the ball dropping off his back up over his head with his heel. He then catches the white ball on the spinning yellow ball and does a two ball stack. I believe this was originally a Francis Brunn trick. Nonetheless, it was very impressive.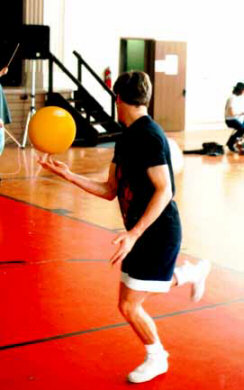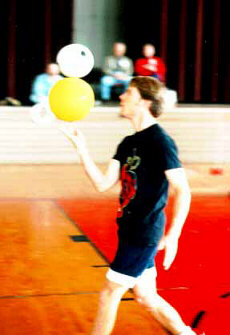 ---
Back to juggling page.
Back to home page.
Please email jamesjbarlow@gmail.com with comments and corrections.